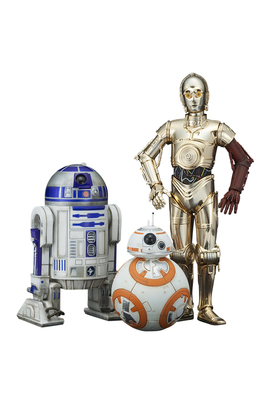 Star Wars ARTFX+ Serie Episode VII C-3PO & R2-D2 with BB-8 18cm pvc statue
Star Wars ARTFX+ Serie Episode VII C-3PO & R2-D2 with BB-8 18cm pvc statue
Condition : new
Kotobukiya's lineup of amazing figures from STAR WARS Episode VII: The Force Awakens continues with fan favorites C-3PO, R2-D2, and BB-8

Artoo and Threepio are updated to reflect their appearance in the latest film

These 1/10 scale figures assemble easily and quickly with snap-fit assembly: no glue or painting required

Artoo and Threepio feature magnets in their feet for added stability on the included base, and even BB-8 includes a magnet to help keep him in place.

Display alongside other Star Wars Episode VII: The Force Awakens snap-together figure kits from Kotobukiya.

Character Information:
C-3PO was built by Anakin Skywalker circa 32 BBY, for "human-cyborg relations." He is a protocol droid - an android specifically designed to interact with organics - fluent in over six million forms of communication.

R2-D2 ("Artoo"), is an astromech droid and counterpart to C-3PO. Along with his resourcefulness, R2 had many tool-tipped appendages that allowed him to be a great starship mechanic and computer interface specialist. R2 would often enter dangerous situations without second thought. This adventurous streak has saved the day on numerous occasions, often turning the tide of galactic history.

BB-8 was an astromech droid who operated approximately thirty years after the Battle of Endor. It had a domed head, similar to that of R2 series astromech droids, with the bulk of its body made up of a ball that the droid rolled on. BB-8 was mostly white, with some silver and orange on its body, as well as a black eye-piece. The droid belonged to Resistance pilot Poe Dameron, and thus was able to fit into a T-70 X-wing fighter's droid socket.
Manufacturer : Kotobukiya
pvc statue ARTFX+ Serie C-3PO & R2-D2 with BB-8 18cm Star Wars Episode VII