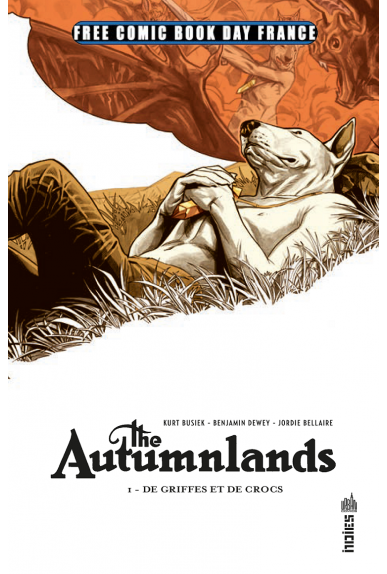 THE AUTUMNLANDS - FREE COMIC BOOK DAY FRANCE 2016
THE AUTUMNLANDS - FREE COMIC BOOK DAY FRANCE 2016
Disponibilité : Article en rupture totale
0,00€ TTC
État du produit : Neuf
The Autumnlands est une série fantastique dans laquelle une groupe de sorciers ramènent à leur époque un champion légendaire afin de sauver le monde.
Mais les conséquences ne seront pas celles attendues ...

Cette série, écrite par Kurt Busiek (connu entre autres pour Marvels, Astro City et de nombreuses séries chez Marvel) est un savant mélange entre Game of Thrones, et Conan avec un soupçon de Blacksad pour ses personnages anthropomorphiques.
Date de sortie : 7 Mai 2016
24 pages
Attention : Limité à un éxemplaire par Client.
Tout nos comics sont par içi !!!
Fabricant : Urban Comics
VALIANT Le Guide Officiel - FCBD 2016

0,00€ TTC

Indisponible

DELCOURT - FREE COMIC BOOK DAY FRANCE 2016

0,00€ TTC

Indisponible

LADY MECHANIKA - FREE COMIC BOOK DAY FRANCE 2016

0,00€ TTC

Indisponible
Le produit a été ajouté au panier
Suggestions
VALIANT Le Guide Officiel - FCBD 2016

0,00€ TTC

Indisponible

DELCOURT - FREE COMIC BOOK DAY FRANCE 2016

0,00€ TTC

Indisponible

LADY MECHANIKA - FREE COMIC BOOK DAY FRANCE 2016

0,00€ TTC

Indisponible
FREE COMIC BOOK DAY FRANCE 2016 THE AUTUMNLANDS